The Following was addressed to Luke Fletcher, Executive Director of Jubilee Australia whose economics centered systematic approach to advocacy has always been exemplary and worthy of emulation.  Glad
to provide email contacts for those interested in following up with the several related recent in the news initiatives mentioned in the missive to Luke.
Lindsay Newland Bowker
Bowker Associates Science & Research In The Public Interest
LNBowkerAssociates.org
Dear Luke,
The quality, clarity, and precision of your analysis  sets a high bar for all of us.  As a body of work, the projects you highlight in this remarkable annual report are evolving universal  modern terms for resource management policy. As Jubilee Australia so wisely and beautifully models, it is in the redefinition of natural resources policy that the broad reforms we all seek in the name of "responsible mining" and "sustainable mining" will be achieved. That of course includes a complete revamping of attending  fiscal policy away from production volume only and toward a more  deeply informed policy on the distribution of costs and benefits.
Globally, as we map in 
our latest partnered work with David Chambers
, present "production volume focused" policy  governing almost all legal frameworks and their attending fiscal policy has created a portfolio  in which 
less than 70% of all approved mines are actually capable of  production at all unless new higher grade discoveries are made or viable new technology emerges.
  We have shown that mines that are not economically viable and were not viable at the time permits were issued (eg Mt Polley),are the main source  of the  world's permanent catastrophic loss to culture, community, environment and impairment of other essential uses of land and water.
Since publishing a few weeks ago, I  saw and widely distributed  a research report  concluding that 
only 50% of the mines in the 
world's
'pipeline of mines "in development" are actually needed to meet world needs for  metals, fertilizers and hydrocarbons
.  The other 50% fostered and facilitated by  present prevailing legal frameworks is  only about speculation and profiteering and nothing to do with actual global needs.  The value that is added for speculators and profiteers is through the granting of the permit, the unfettered exchange of the permitted entity with its value adding  permit status intact and in the structure of law that allows the trade  not just of the extracted commodity but of the mine itself as "commodity".
Our latest  findings suggest that every nation, every community can formulate a resource management policy on the terms you 
and others
 have begun to map out that in aggregate will supply all the metals, fertilizers and hydrocarbons the world needs within a "zero failures", "zero harm" mandate. Perhaps you have seen Andrew Bauer's ( Natural Resources Governance Institute) exemplary work on this kind of rethinking and revamping for the Northwest Territories in Canada.
Policy reforms, including the Mt Polley expert panel recommendations on tailings management and those parts of it endorsed in the recent UNEP report and the reformulation of 
Initiative For  Responsible Mining Assurance
 standards (now under leadership of two of the world biggest polluters)  that don't address the need for a fundamental shift  on resource management policy  offer incomplete solutions that will not prepare us  for 
this new era of  low grade mining that is already well underway and for which there is no present  proven technical capacity.
You have gone a long way toward mapping the route and foundations needed for a the radical restructuring of law and policy we must accomplish to prepare for what lies ahead for the next two to three decades of human history and resource extraction.  You are right in your analysis of the deep flaws in the World Bank drafted Mining Law for Bougainville that sound resource management policy  begins with the granting of mineral rights  and the consideration of whether that use will benefit the local community  and fit harmoniously with that community's overall vision of its own economic future.
Thank you, Luke. Thank You, Jubilee Australia!!!
Lindsay Newland Bowker, CPCU, ARM Environmental Risk Manager
Science & Research In The Public Interest
​LNBowker@BowkerAssociates.org​
———- Forwarded message ———-
From: 
Jubilee Australia
<inquiry@jubileeaustralia.org>
Date: Sun, Nov 19, 2017 at 8:00 PM
Subject: Jubilee Australia Helps Launch Australia Corporate Accountability Network …
To: Lindsay Newland Bowker <
lindsaynewlandbowker@gmail.com
>
Dear Lindsay,

Two weeks ago in Melbourne, Jubilee Australia was at RMIT in Melbourne for the launch of an exciting new project: the Australian Corporate Accountability Network.

Jubilee has played a crucial role in setting up this network and our Business and Human Rights Advisor Brynn O'Brien, who is on the network's secretariat, addressed the launch event.

We have big hopes that this new project will be able to shine a brighter light and ultimately hold to account any Australian companies committing human rights violations and environmental damages either at home or overseas.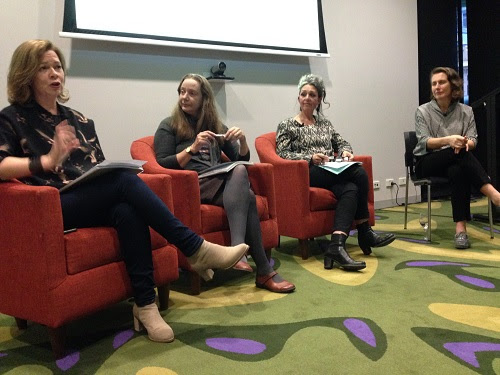 Caption: From left Michelle O'Neil (Textile, Clothing and Footwear Union of Australia) Catherine Coumans (Mining Watch Canada), Serena Lilywhite (Transparency International Australia) and Shelley Marshall (RMIT) discuss the potential for better corporate accountability in Australia.
Here is a snapshot of what we have already accomplished this year:
And here is just a few of the projects that we are working on now:
Stay tuned to hear more about all these issues in the near future. We can continue to carry on this important work with your generous continued support. All donations are tax deductible.
Luke Fletcher
Executive Director, Jubilee Australia
Jubilee Australia engages in research to seek reform of Australian government and corporate practices, and of the global financial system, to support community wellbeing and a just, sustainable, global economy.

Contact us:
PO Box 20885 World Square NSW 2002
Email: luke@jubileeaustralia.org
Website: www.jubileeaustralia.org
Lindsay Newland Bowker

 

<lindsaynewlandbowker@gmail.com>

9:39 AM (4 minutes ago)
David,
Understand Rhiannon is still on maternity leave.  Her instructions are to forward to you.  Happy to assist on background, sources contacts of you are interested in this area and this subject.
Lindsay
Lindsay Newland Bowker, CPCU, ARM Environmental Risk Manager
Science & Research In The Public Interest

Click here to 

Reply

 or 

Forward